When?
Sunday, March 29, 1998

Where?
Disneyland, Anaheim, California, USA

This particular gathering was centered around a Black Engineers Convention in Anaheim that Rookie was attending.
Disneyland ticket prices for this day:
Regular (12 years+): $38.00
Child (3-11): $28.00
Southern California residents could get in for $28.00 until May 15 with a proof of residency (e.g. a drivers license) within the ZIP codes 90000-93599.
People who actually showed up: Chuck, Devo, Hannah, Locus, Mortekai, Nala, Pyra, Rookie, Tracy, and Virus. One non-mudder, Melody, joined the fun.
People who said they might show up, and didn't: Doodlebug, Itchy, Purge, Skullface, and Tyrus.
Where the out-of-towners stayed:
I have crash space at my house (about 15 minutes from D-Land), incl. a couple beds and sofas. It's cool with me as long as I know you-- just don't, like, muss up my favorite porno mag or anything. :)
-- Mortekai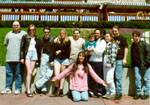 group photo, taken by Rookie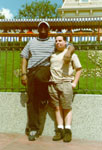 Rookie and Devo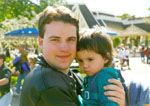 Chuck & Melody